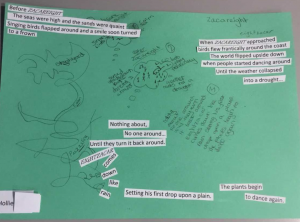 Hollie wrote this poem during a session with Philip the firepoet.
Before ZACAREIGHT
The seas were high and the sands were quaint
Singing birds flapped around and a smile soon turned to a frown
When ZACAREIGHT approached
birds flew frantically around the coast
The world flipped upside down
when people started dancing around
Until the weather collapsed
into a drought…
Nothing about,
No one around…
Until they turn it back around.
EIGHTZACAR comes down like rain,
Setting his first drop upon a plain.
The plants begin to dance again.
Hollie