We have a new writing game here at Chelsea Community Hospital School and it starts with art – by making just a few marks. Look at the marks below – simple black marks on paper. We have turned it so you see it in different ways – just pick one to add marks to and write about.
We would like you to have a look at these marks and say what you can see. Celeste has started us off below – she has added marks in another colour pen to show what she has seen and written a line to go with it. Either put a few words, or (ideally), extend your idea in 10 words including a verb (see examples below). Please start with 'That's obviously…'
The more creative the better! Please take time choosing your words carefully.
That's obviously … umbrellas sheltering people on a grey and rainy winter's morning. (Celeste)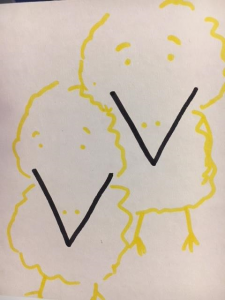 That's obviously… yellow, fluffy chicks running around happily in a rural farm. (Jonny)
That's obviously… mischievous tropical fish chasing each other in a shimmering sea.  (Mary)
That's obviously… two mice, who have just heard the cat is away. (Janette)
That's obviously… snowy peaks of a forgotten land, waiting to be climbed. (Charlotte)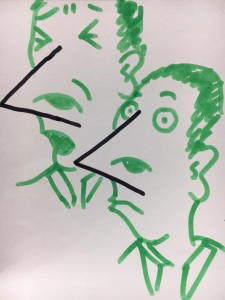 That's obviously…Mr Airwaves, he smells anything up to twenty metres away. (Tom)
That's obviously… an enchanted forest filled with secrets, leading to a castle. (Lala)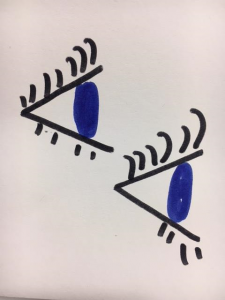 That's obviously… eyes, watching from the shadows, sensing every move that's made. (Kerry)